Pandit Buddhadev Dasgupta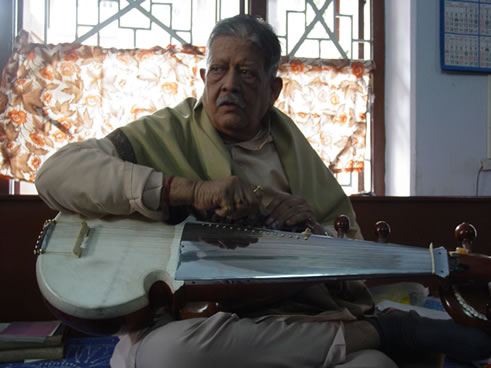 One of the finest Sarodias of modern times, Buddhadev was born in Bhagalpur, Bihar, on 1st February, 1933. Unlike many famous musicians who have been his contemporaries, Buddhadev did not hail from a family of musicians. In fact, his grandfather was a lawyer and totally averse to music. His father, Mr. Prafulla Mohan Dasgupta was interested in music, but dared not venture into learning because of his father. Being in a government job, Prafulla Mohan was transferred from place to place, however, he made friends with local musicians wherever he went, and hosted them for soirees at his home. When Buddhadev was about nine years old, his father was transferred to Rajshahi (now in Bangladesh), where they met a young charismatic Sarodia by the name of Radhika Mohan Maitra. Not sure if it was his music or his good looks that impressed young Buddhadev, but he started learning the Sarod from Pandit Maitra. Thus began a long relationship of the Guru and his disciple, which lasted till Pt. Maitra's death in 1981.
Having been born into a middle class Indian family, it was difficult for Buddhadev to choose music as his sole profession. In fact, he had seen his Guru struggle with finances when Radhika Mohan was forced to move to Calcutta after Independence and the Partition of Bengal. It was therefore, imperative that Buddhadev receive formal education and ultimately seek a job. He attended different schools wherever the family went and graduated from a high school in Calcutta. As an academic student Buddhadev showed that he was not ordinary either – he stood second in rank in the state Matriculation (secondary school) examination in 1948. He went on to study at Presidency College, Calcutta, and finally enrolled as a student of mechanical engineering at Bengal Engineering College (Sibpur), which was under the University of Calcutta. He graduated in 1954 and proceeded to take on a job with the Calcutta Electric Supply Corporation (CESC) as a power station engineer. During his early career, there was a period of about eight years during which there were no weekends or holidays, and he had to work around the clock at the power station where he lived as well. He worked for the CESC for 32 years before retiring in 1988.
Despite the grind of his exacting profession, he managed by the dint of his firm resolve and dedication to pursue and preserve his passion for the Sarod. He stood first in the Sangeet Prabhakar (Bachelor of. Music) and Sangeet Praveen (Master of Music) examinations of the Prayag Sangeet Simiti. He successfully appeared in the audition for All India Radio (AIR) in 1949, and went on to become a top graded artist, which was no mean achievement. Along with this, he started to make his mark as a young talent in various music competitions and conferences all over India and received appreciation from the great maestros and critics. He also performed for the BBC in 1958. In 1961, he performed his first National Programme of All India Radio and since then he has been featured in AIR's National Programme and Radio Music Conference on more than twenty occasions.
He retired from his job in 1988 to focus more on music; something that he had always wanted to do. Currently, he is a superior performer, along with being a Guru in instrumental music at the ITC Sangeet Research Academy in Calcutta and the chairperson of the West Bengal Music Academy. He has also been on the expert committee at the Rabindra Bharati University and a member on the All India Radio Audition Board. Buddhadev has been honored with numerous awards including, Sangeet Natak Academy Award, Prachhen Kala Kendra Award, ITC Award to name a few. He has also taught a number of talented disciples including his two sons Bhavani Shankar and Anirban, Debashish Bhattacharya, Sugato Nag and Prattyush Bannerjee, to name a few.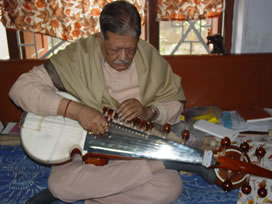 Buddhadev's style is firmly anchored in the tradition of the Shahjahanpur Gharana and combines the Rabab style beautifully with the Gayaki (vocal) style. He has made a pioneering contribution in incorporating extensively a variety of khayal based Ekhara taans and Bandishes (Gat compositions) on the Sarod. Like his illustrious Guru, he has strived to discover new frontiers while staying within the boundaries of tradition. During the 1970's he started to experiment with Rabindrasangeet, or songs composed by Rabindranath Tagore. Buddhadev examined the movements of the Ragas in some of the songs and started to develop Bandishes, adopting the core melody from these songs and forming subtle movements using Sarod vocabulary. One such composition in the Raga Pilu, can be heard in this audio clip.
A firm believer in the "Universality of Music", Buddhadev is also keenly interested in other forms of music, particularly Western Classical and has to his credit a number of symphonic creations based on Indian Ragas. More information about Buddhadev, his life and music are available on his website: www.buddhadevdasgupta.com.