Soumya Chakraverty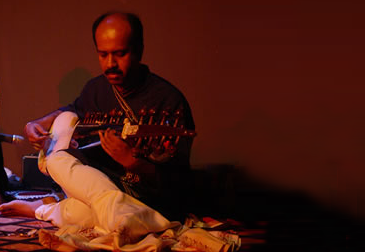 Soumya was born into a family of music lovers. His mother received some early training in the Sitar and vocal music. However, both his parents were avid music listeners and had a large collection of LPs and other recordings of classical music at home. His siblings and cousins were all learning Indian Classical music of some form by the time Soumya was a little boy and with lessons on the tabla, so began Soumya's initiation into Indian classical music. He turned to playing the Sarod when he was eleven under the tutelage of the highly respected Pt. Samarendranath Sikdar, a senior disciple of the late Pt. Radhika Mohan Maitra of the Shahjahanpur Gharana. For nearly thirty years he has received extensive training under his guru in a multitude of north Indian Ragas, some of which are very rare and unique to his Gharana.
His solid technique and thorough grounding in the roots of his own music notwithstanding, his interests also lie in exploring the commonalities of North Indian Classical music with other music styles.
His playing style has been greatly influenced by the likes of his guru and other masters of his Gharana. It highlights a perfect blend between the Rababiya and Gayaki styles that is unique to the Shahjahanpur Gharana. He is both a purist, who likes to maintain the authentic forms of the Ragas as passed down the generations of Ustads (maestros), and at the same time, he likes to experiment with other forms of Indian as well as world music, to find common strands of melodic expression.
Soumya blossomed as a young artist on All India Radio Calcutta between 1990 and 1995. During a brief stint in Australia for a couple of years in the nineties while pursuing his MBA, he truly established himself as a mature instrumentalist, and also began to collaborate with other forms of world music. He performed live with a Flamenco dancer in a production that combined the gypsy roots of the dance with Latin American percussion, Middle Eastern vocals and Indian Classical instrumental music. He returned to Australia in 2000 and 2011, giving concerts, lecture demonstrations and workshops.
For nearly two decades, Soumya has been performing throughout the US, as well as touring Australia and Mexico. He has performed in major cities such as Cleveland, New York, Princeton, Seattle, and his home town of Washington DC, drawing packed audiences and earning rave reviews. In addition to pure Hindustani he continues to work with other music genres such Classical Carnatic (south Indian), flamenco, jazz and latin American percussion. His recent concert and interview at the Library of Congress has gone into the archives of this prestigious institution. Other performances of note, include Hindustani-Carnatic Jugalbandi at the Embassy of India in Washington DC, a collaboration with Ghazal in a program series titled From Ghalib to Gulzar, and a fusion project combining Rabindrasangeet (Tagore songs), Hindusthani classical music, classical Jazz, and West African percussion in a concert titled 'Sea Thy Melody'.
Soumya balances his busy music schedule alongside a full-time career in banking and risk management. In addition to performances, he also teaches a number of students of Sarod and other stringed instruments, passing the tradition of the Shahjahanpur Gharana to the next generation. Although his primary interest is in Hindusthani classical, he continues to challenge himself exploring and working on blending with other genres of Indian and world music.